Cooking for passion… that's whats all about!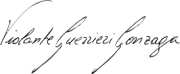 Vio's Cooking is an exclusive experience created by Violante Guerrieri Gonzaga for small and selected groups of tourists coming in Rome that want to feel and taste "the eternal city" in  a very private and different way.
Vio's Cooking  is a unique Italian experience, it's about lifestyle, Italian culture and passion for food.
It all starts shopping at Campo dei fiori the most typical roman fresh market buying fresh and authentic food and flowers… then the cooking class, cooking delicious haute cuisine italian food and eating joyfully together the menu  that has been created…magically settled and presented  on Palazzo Taverna's roof top terrace with one of the most stunning views in the heart of Rome!

Open and enjoy the Vio's Cooking Experience Video!